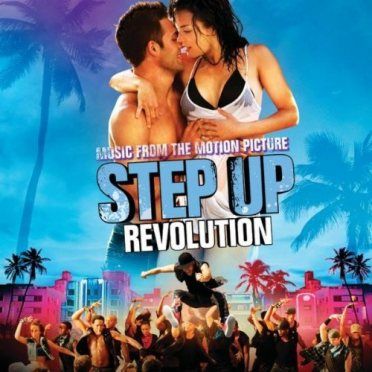 IMDB Link: Step Up Revolution (2012) IMDB
Short Story of Step Up Revolution (2012):
The Mob sets the dancing against the vibrant backdrop of Miami. Emily arrives in Miami with aspirations of becoming a professional dancer and soon falls in love with Sean, a young man who leads a dance crew in elaborate, cutting-edge flash mobs, called "The Mob". When a wealthy business man threatens to develop The Mob's historic neighborhood and displace thousands-of people, Emily must work together with Sean and The Mob to turn their performance art into protest art, and risk losing their dreams to fight for a greater cause.
Step Up Revolution (2012) Movie Reviews:
When I stepped into the theater to see Step Up Revolution, I expected cutting-edge dance. I got it and maybe better than I expected with robust routines blending 3-D performance and modern art to tell a story that moves from public display to public mission.

"The Mob" is a flash mob secretly doing percussive urban choreography at different times in Miami to publish the dance on YouTube and win $100K for the most hits. The opening sequence using vintage low-riders in a traffic jam is spectacular, a muscular routine using very physical dance and very physical automobiles for an enjoyable fusion of art and pop culture.
Look, this is not Flashdance or Dirty Dancing, and Emily (Kathryn McCormick) is not Jennifer Beals, nor is Sean (Ryan Guzman) Patrick Swayze (or Channing Tatum from the first installment), but they are attractive performers given simple dialogue but dynamic modern film dancing that uses creative camera angles and minimal CGI to tell a pleasant formulaic story. In other words, I was entertained by the dancing and found the screenplay clichéd.
Emily's dad, Mr. Anderson (Peter Gallagher, the only true actor in the lot), plans to build a giant complex right in the hood of the dancers, a place romanticized for the purposes of the story but in reality a poor wharf community. The Mob, along with Emily, fights to preserve the area using flash mob to tell their story to the city to stop the construction. The set pieces are uniformly exciting and executed with such energy as to evoke the passions of youth and protest.
The story and the dialogue are pedestrian, but that dancing is so magnetic that I might go back and see the first three films in the series and maybe Footloose and maybe even West Side story and Strictly Ballroom.
If for nothing else, Step Up Revolution keeps alive the romantic dance movie genre with some steps even Fred Astaire wouldn't recognize. Now that's revolution. -by John Desando
If you don't know how to download movies from Putlocker or Sockshare then go to this link :
How to Download Movies?